Satisfaction Guaranteed
---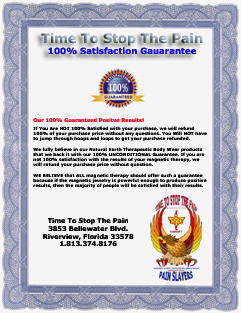 DO NOT BUY WITHOUT A WRITTEN GUARANTEE!
There is a difference between Magnetic Jewelry and Natural Earth Ion Therapy and knowing the differences is important when it comes to your complete satisfaction with your purchase and the therapeutic results you may gain!

When purchasing quality therapeutic magnetic products, consider the guarantee that is being offered. Then compare our 100% Satisfaction Guarantee if you are not 100% satisfied with YOUR RESULTS with the other so-called magnetic jewelry that is represented as "Magnetic Therapy."
99% of Magnetic Jewelry offers NO Guarantee of positive results or satisfaction!
Our Natural Earth Ion Therapy OFFERS a 100% Satisfaction for positive results!
Our 100% Guaranteed Positive Results!
We fully believe in our Natural Earth Ion Therapeutic Body Wear products that we back it with our 100% UNCONDITIONAL Guarantee. If you are not 100% satisfaction with the results of your magnetic therapy, we will refund your purchase price minus a small restocking fee.

WE BELIEVE that ALL magnetic therapy should offer a 100% Satisfaction Guarantee because if the magnetic jewelry is Natural Earth and powerful enough to produce positive results, then the majority of people will be satisfied with their results.

Since 2002, and with over 9000 customers, we've found that 1 in 200 are not satisfied and the majority will get a refund (those who do not request a refund, keep the jewelry because it looks great!).

If you happen to be the 1 in 200 that is not satisfied with your results, buy with confidence that your investment is safe with our 100% satifaction guarantee.
---
Return To Previous Page Viewed