A VERY LIMITED OPPORTUNITY
Click To Listen To Audio of Presentation
A Spokes Model Position
What Is Required?
You do NOT need a credit card!
There is NO Obligation to continue!
There is NO Special Training as Spoke Model!
You will NOT have to RECRUIT, MARKET or SELL!
And NO, we are NOT talking about telling everyone you know, your family, your friends, co-worker, or standing on a street corner telling people about our product.

When you SEE or HEAR someone talking about their pain, or not getting enough sleep, or feeling tired and run down, those are the opportunities we ask you to respond to and refer them to your website for more information.

All you have to do is refer people who suffer from pain, poor sleep, need more energy, or searching for ways that they can NATURALLY build a stronger foundation for health, to your personalized website (and NO, you do not need to know how to build or maintain a website - we do everything!).


Okay - The Important Question
How much money can you earn? That all depends on how many people you send to your personalized website and how many people purchase. It cost you NOTHING to start!



ALL IT TAKES IS ONE PERSON TO PURCHASE,
AND THE BALL STARTS ROLLING!


You can start earning money today, but this is NOT a selling opportunity, and that is the difference between a salesperson and a Spoke Model. Read more to learn the difference.

Click Here To Discover The Reason!
The Secret To Success
Why Our Customers Refer Their Friends?
When was the last time you purchased a product that over-delivered in quality, service and follow up? I bet you shared that experience with your friends, co-workers, and family - we all do when we are 100% satisfied!

We Give People Reasons To Talk!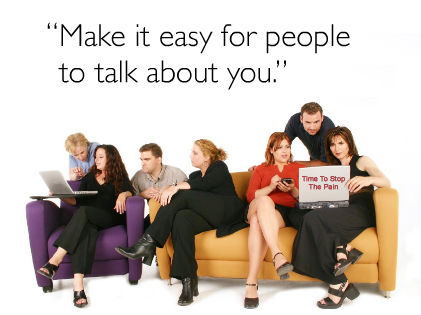 Time To Stop The Pain has built its business on delivering quality products, service and follow up for the past 12 years. We treat and respect our customers as people, not just a number and another sale.

Our customers do refer their friends and family to us. On average, 60% of Time To Stop The Pain customers will purchase additional product within 6 months of their first purchase and over 40% of our customers will refer an average of 2 people
to our product line within one year.
What Does That Mean For You?
Once a person who you referred to your website purchases our product, they will start telling their friends, family and co-workers about their satisfaction - and the word-of-mouth starts to grow into more profits for you!

Our Progressive Engineered Campaign is simple and has tested positive for extended benefits and creating word-of-mouth referrals.

Here's how it works:
100% Satisfaction Policy:
When a sale is made the customer has 12 weeks to evaluate our product. At the end of 12 weeks, if they are not 100% satisfied with the results, they can request a 100% refund without any questions.


Over Delivery In Value:
Each customer receives a copy of "The Secrets To Living Longer" workbook that guides them through simple steps to create a stronger foundation for health. Each month they receive another Chapter to insert into their workbook.


Friendly Follow Up:
Each customer receives our weekly e-newsletter that explains the uses of the product they purchased. Each issue includes tips, guides and support to help them gain the most from their purchase.


Professional Support:
Each customer receives access to our online Research and Support Center, a social media website where they can connect with other members, share their stories, tips, and join ongoing discussion groups.
The Growth Factor - Increased Profits
There's a lot of buzz about using social media to reach customers and prospects — and almost as much confusion about how to do it. New research by J. Andrew Petersen, assistant professor of marketing and assistant director for the Center for Integrated Marketing and Sales, indicates that B2C companies can get the most benefit by using social channels to drive referrals.

"Word-of-mouth and referral marketing are extremely interesting topics to most B2C firms right now, given the rise of social networking among consumers," Petersen said. "I think the appeal is how fast word can move through a social network and create enormous value — at a relatively inexpensive marketing investment."

One effective way to leverage the power of social networking is through consumer recommendations.

"Your most valuable customers are often those who make regular referrals," he said. Here's why:

The Multiplier Effect: The customers who purchases from a referral are more likely to make referrals than customers who purchase as a result of traditional marketing channels. They're also "more likely to refer others who are a good fit with the company's offerings," he said.

Long-Term Value: Customers acquired through referrals are more likely to be more valuable to the firm over time than customers acquired through traditional marketing channels. Referred customers tend to be more satisfied, buy more and stay longer with the company. "The referring customer usually doesn't want to recommend a friend to purchase unless it's likely that the friend will find the product useful."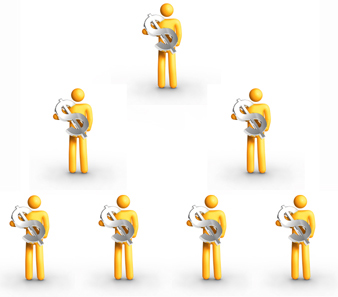 Petersen studied the value of a single customer referral by looking at both direct (those referred by the original customer) and indirect (those referred by the referred customers) referrals. "The value quickly grew exponentially," he said.

"You can quickly see how if I refer two people and those two people refer two people and so on, it could lead to a lot of contacts.

We will show you step-by-step how to build an extra $300, $500, $1000 or more a month in income without doing any selling. And that figure will continue to grow.

WE ARE GROWING
This is an opportunity for you to see if this is an opportunity or an interest you may want to pursue even more in the near future.

You can think of it as an on-the-job evaluation of the opportunity. Once you discover how easy it is to earn money, I believe you will pursue it further.

Once our expansion starts, we will be searching for representative, dealers, and resellers within a market area, and we will first look to those who are already evaluating our opportunity. So this is your chance to be on the ground floor and evaluate our opportunity without making a commitment today.
---
Thanks for the hard and relentless work by:
Mark Coussoule
Over the past 7 years, Mark has developed a National Account of over 500 stores across the USA. We are in the development stages (In Florida) in testing our marketing approach and product line in local stores. Mark has developed inroads to local health food stores where our products and services are now featured and showcased.


Alicia Whitmore
Alicia is our lastest State Director for the state of Minnesota and Alicia's 21 years of experience in the medical field is yielding professional leads across the USA. We are in the development stage of presenting our product at National and International Conferences where 1000s of leads will be developed.


Susan Scott
Susan is our lastest Dealer in south Florida and Susan's 30 plus years of experience in the insurance (medical) is opening new doors of opportunties because of the "Health Care Reform" sweeping across America. Susan's insights into "Group Policies - Underwritting" presents a new opportunity to develop large corporate accounts interested in providing "preventive and natural" health care to their employees.


Robin Carroll-Bostwick
Robin is our National Director of Equine and Pet Therapy Research and is forging new ground in Natural Earth Pet Therapy with world renown polo players, racehorse trainers, breeders and vets. Robin travels throughout the east coast and has over her 30 years of equine experience as a breeder herself, established connections around the world. A lot of exciting developments ongoing.


Liane Page
Liane has developed a lead with the National Director of Hospital Fundraising and we are scheduled on June 22, 2012, to present our product and fundraising campaign to a group of "Fundraising Booking Agents" that serve all of the major hospitals in Florida. On October 10, 2012, we will deliver our presentation to the National Conference of "Fundraising Booking Agents and Gift Shop Managers" for the entire eastern USA - 1000s of hospitals!


Clay Page
Since 2008 Clay has established inroads with National Charities (left) that have approved our product line and services as a fundraising method that can easily be integrated into their fundraising events. Combined with all of the other venues (above) that are being developed, we NEED people who may be interested in a life-rewarding opportunity and become part of our mission.
What Is Required In The Future?
You see the current economy as an opportunity to expand?
You are driven to succeed in all areas of your life?
You are a natural leader who loves to learn?
You are highly motivated and self-reliant?
Our company is currently seeking Spokes Models, and Professional Account Development within the Health and Wellbeing industry.

This is an incredible opportunity for personal and financial growth. We're seeking people who are motivated by more than money (caring), enjoy interacting with people, have a positive attitude and carry themselves well (professionally).

We are searching for competitive, driven individuals who are determined to break out in 2012 and set new records for 2013 and beyond.

We will only consider entrepreneurial minded, or top producers with a relentless desire and passion to discover the right marketplace and excel in their success. Ideal candidates are determined to reach the highest pinnacles of success in life and in business.

Our company is positioned in a multi-billion dollar per year industry and it is exploding in a down economy. The most recent recession is driving our business into record numbers. For 12 years we continue to be the leader in our industry and we are posed to experience double digit growth for many years.

We are expanding our product line to professional health care providers (Massage Therapist, Chiropractors, Reflexologist, Wholistic Practitioners, etc.).

All candidates should have the following interests and talents:
Have a passion to help other people.
Enjoy talking and interacting with people.
Enjoy earning a lot of money without losing focus on the mission.
Get paid to have fun and talk to potential clients.
Are You Interested In Evaluating Our Opportunity?
If you are, complete the following form and you'll receive additional information and a starter kit. There is no obligation or cost to start today, but this offer is limited to the first 100 evaluators.

When you join below, you'll receive an email titled: "Your Ion Magnetic Purchase!". This is the same email a customer receives when they purchase our product, so you'll see first hand how our system works.


---